"The story behind the white and yellow colors of the Vatican flag"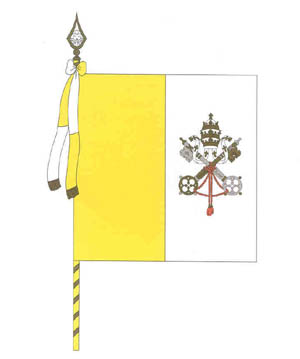 [
From Catholic News Agency, 14 July 2008
]
L'Osservatore Romano published an article last week explaining how Pope Pius VII decided in 1808 that the Vatican colors would be white and yellow. Historian Claudio Ceresa explained the history behind the Pope's choice.
In an article entitled, "Two centuries of yellow and white as the papal colors," Ceresa explained that in order to understand why the colors were chosen, one must consider the "occupation of the city by Napoleonic troops in February of 1808."
"The commander of the French forces, General Miollis, posted notices on the walls informing that the Pope's army would be incorporated into the imperial forces. Those officials who remained loyal to Pius VII were to be arrested and deported," Ceresa explained. "Reaction was minimal because it was reported that the Pontiff was aware and did not resist. Only a small group of loyalists were deported to a prison in Mantova."
"In order to underscore the unification, and probably to increase the situation of uncertainty as well," Ceresa continued, "the papal soldiers were allowed to continue using the distinctive yellow-red colors on their hats."
Ceresa afterwards noted that the Pope "did not want the Vatican State to be subject to Napoleon, and therefore on March 13, 1808 he forcefully protested. He ordered, among other things, that the units that were still loyal to him substitute the Roman insignia colors with white and yellow."
Abbot Luca Antonio Benedetalla wrote in his diary on the same date that "in order not to confuse the Roman soldiers who were under French command with the few that remained in his service, the Pope ordered the new yellow and white insignia. The noble guard and the Swiss have adopted it. They like it," he wrote.
Ceresa explained that three days later, on March 16, 1808, Pius VII sent the order in writing to the diplomatic corps, the document is considered to be the act creating the colors of the current flag of Vatican City."